Monday, 8 October 2007
RRRAAAAAHHHH!!!!!
Mood:
on fire
I had the most incredible weekend with my good buds Will and John!!!! Got my batman back for scanning to put on the site... check it out, it kicks butt!!!! It goes back to it's rightful owner, Will, next time i head on down to Virginia... i also put a few sketches on the extras page, i have been doing stuff in a sketch book. My buddy Carlos inspired me on that one. Rock on...
Monday, 7 May 2007
Where have i been?
Mood:
not sure

Well, i have been busy... i have the "special portrait" finished but can not post it until it is given. I have the studio set up the way i have planned, one of the diver series drawings is started, i am doing another portrait in charcoal right next to it on the drafting table. You can see this in the photo below. The special portrait is "smudged" in photoshop. AND i have been working on a totally butt kicking tree in ball point pen (yes, i have drawn and will shade in each individual leaf). I hope to have it in the shop at the National Arboretum as a print. This piece is on a small drawing board so that i can work on it a little bit on the sofa while the wife watches her soap! I will do a whole series of these trees from imagination, i have 3 already in my head waiting to be put on paper. So, i have been busy producing, just not blogging...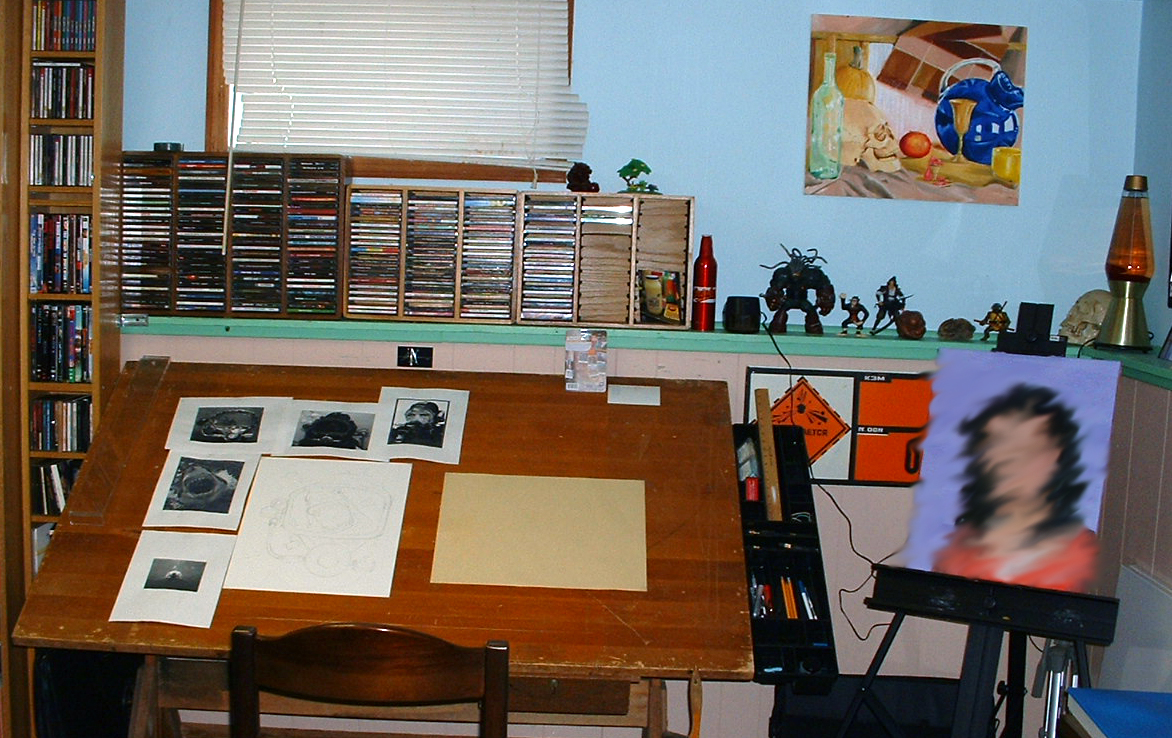 Wednesday, 24 January 2007
Moving right along...
Mood:
bright
Spent some considerable time last night on the "special" portrait, and i am quite pleased with the results... I will let it dry for a few days and then put the finishing touches on it. I have also added a new section to the website to accomidate my latest two drawings, under symbolic, i finished the bonsai logo... I start the dives series next and a scene from Italy in oil for the wonderful wife!
Sunday, 21 January 2007
Busy, busy, busy...
Mood:
celebratory
I did ALOT this weekend, I was like a man possessed. I put some new pictures on the site, mostly in the misc. page. Finally went through the drawing cabinet and threw out the crap and then scanned or photographed some old work. I also started painting the special portrait, and i am pretty pleased with how it is turning out. I also did some research on my first dive series drawing and found some neat stuff, and then bought the smoot bristol board i am going to use for these drawings... what else? OH! I found an old drawing i never finished, so it is on the board to be completed. It will be my symbol for my bonsai garden. Might finish it today and work on the portrait some more as well... feeling good.
Thursday, 18 January 2007
Some minor changes...
Mood:
caffeinated
I made a few changes on the website. I added a student art page of which I am very excited about. I already have a piece up, go check it out! I also added a photograph and touched up a few pieces that needed touching up in photo shop, and deleted a few things, but... who cares?!? The real reason i am writing tonight is to tell you to go to the artist page, i added some really neat new artists to the list... especially Donato Gianocola. WOW, he's amazing. See for yourself, go on, do it!
Tuesday, 16 January 2007
I'm back...
Mood:
loud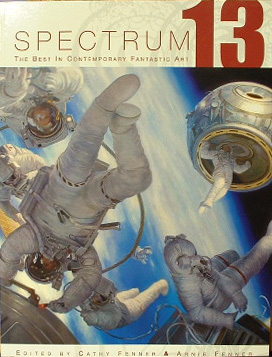 I did it, i drew something! I finished it tonight. One of my students gave me the idea for his band logo. It's pretty wacky, just a black and white, but i like it. I will photograph it, photoshop it and have it on the site tomorrow night... I also bought my first copy of SPECTRUM and if you haven't seen it, then you haven't seen anything yet. It is the premier science fiction/fantasy rag. It has a collection of all of the best that was produced in the past year in the way of paintings, drawings and sculptures in the fantastic realm, simply amazing, it has inspired me to paint, paint!!!
Sunday, 14 January 2007
All good things end...
Mood:
sad
I learned a very sad truth yesterday from an old friend of mine, Jerry Jancuk, that our old martial arts instructor died. His name was Rix and he trained with Ed Paker, who, taught Elvis. He was a master of the Kenpo Karate system. I trained under him and liked him very much. I mention him because he is featured in my "early years" comic from self defense class. (I spelled his name wrong, but hey, i was a kid) He was a good man that did alot of people good and the community, he cared and wanted people to be able to defend themselves, if they ever needed to and for that, i will be eternally grateful to him. He will be greatly missed by alot people. Rest in Peace, Master Rix, you have earned it.
Thursday, 11 January 2007
GGGaaahhhhhh!!!!
Mood:
irritated
Were have i been??? I just fell off the face of the art globe. I have been going crazy at my present job. It's insane. I work every night just to keep up with it and by the time the week is over and the weekend comes around, all i want to do is sleep and drink beer and watch tv... i have no desire to be creative. I just don't have it in me... I am not sure when i will produce another piece. At least bud is done and put up on the site. Maybe i will have some energy soon, but for now, nothing is happening in the studio. On a good note, i did get my cards made, and they are AWESOME. If you want one, just send me your address and i will mail you one out right away. Patronize artists!!!! Buy thier work...
Friday, 1 December 2006
DSL!!!!!
Mood:
a-ok
Now Playing: Mudvayne
Got DSL today!!!! Now working on this site will be so much easier. I will be doing the "secret" oil portrait this Saturday, i have painted the background, now for the "flesh" tones of the neck and face, keep your fingers crossed for me, ok??? See ya soon!
Monday, 27 November 2006
First finished piece!
Mood:
celebratory
First commisioned piece finished!!! It is the one my sister had me do... but unfortunately, it is a christmas present, so i can not post it on the website or my blog. Bummer! I am also currently working on the secret piece, the burnt umber wash is done, time to actually start painting it! It is looking really good, hopefully the special person i am doing it for will like it. I think i nailed it so far, but i am nervous about applying the paint... I will just take my time and work it up slowly. It will be done before christmas. I also added my two favorite cars, my sweet new ride, the scion tC and the Chevelle in the misc. I also found the original version of wonder woman and put her into the comic section and i also put a chrome dragon on the airbrush page. So, some new stuff, i will be putting my sisters oil on the portrait, i have repaired the background, i want to fix her nose, so after that... her portrait will be on. I will be starting on the black and white dive series and the logo for the dojo too. Whew, that's about it for now! Stayed tuned...
Newer | Latest | Older